Pemberdayaan Masyarakat Desa Jungsemi di Masa Pandemi Covid 19 Melalui Pelatihan Pembuatan Hand Sanitizer dan Pelindung Wajah
Abstract
Pada masa pandemi virus corona terjadi beberapa perubahan kondisi sosial dan ekonomi masyarakat. Pembatasan sosial pada beberapa kegiatan perlu dilakukan untuk mencegah menyebarnya virus corona ini. Pola adaptasi baru dengan melakukan perilaku sehat, seperti mencuci tangan dengan sabun, menghindari kerumunan massa, atau menggunakan masker atau pelindung wajah, merupakan cara yang cukup efektif untuk  mencegah penularan virus corona. Penggunaan hand sanitizer diharapkan dapat meminimalisasi penularan virus kepada orang lain Ketika tidak tersedia fasilitas cuci tangan pada suatu tempat. Selain itu, produk hand sanitizer juga bisa dikatakan cukup praktis dalam penggunaannya karena dapat dibawa dengan mudah. Berdasarkan alasan tersebut, tim PPDM bekerja sama dengan Satuan Tugas Covid 19 dan Laboratorium pendiikan Biologi Universitas PGRI Semarang untuk memberikan pelatiha pembuatan hand sanitizer an pelindung wajah bagi warga Desa Jungsemi. Pelatihan pembuatan hand sanitizer dan pelindung wajah ini bertujuan melatih warga desa agar dapat memanfaatkan potensi usaha ini di masa pandemi. Selain itu, juga bertujuan untuk memberikan sosialisasi kepada masyarakat mengenai perilaku sehat yang nantinya menjadi pola adaptasi baru di masa pandemi ini.
References
Chen, C.‐C. and Chi, C.‐Y. (2020), Biosafety in the preparation and processing of cytology specimens with potential coronavirus (COVID‐19) infection: Perspectives from Taiwan. Cancer Cytopathology, 128: 309-316. doi:10.1002/cncy.22280
Cirrincione L, Plescia F, Ledda C, Rapisarda V, Martorana D, Moldovan RE, Theodoridou K, Cannizzaro E. COVID-19 Pandemic: Prevention and Protection Measures to Be Adopted at the Workplace. Sustainability. 2020; 12(9):3603. https://doi.org/10.3390/su12093603
Gugus Tugas Covid 19 RI. 2020. Peta Perkembangan Kasus Terkonfirmasi Positif Covid 19 Nasional Per Hari. Di akses pada tanggal 14 Juli 2020 jam 08.00 https://covid19.go.id/peta-sebaran
Helmy YA, Fawzy M, Elaswad A, Sobieh A, Kenney SP, Shehata AA. The COVID-19 Pandemic: A Comprehensive Review of Taxonomy, Genetics, Epidemiology, Diagnosis, Treatment, and Control. Journal of Clinical Medicine. 2020; 9(4):1225. https://doi.org/10.3390/jcm9041225
Nugroho CB, Ismail M, Sagoro G , Maskarai A, Ghozali MS, Asrafi, Satoto SW, Saputra R, Rusdwinanto CD, Sriyanto, Prasetyo NA, Antartika MP. 2020. Desain dan Pembuatan Faceshield Sebagai Alat Perlindungan Diri Penyebaran Covid19. Abdimas-Polibatam, Vol. 2 (1) Hal 1-16
Zhou, P., Yang, X., Wang, X. et al. A pneumonia outbreak associated with a new coronavirus of probable bat origin. Nature 579, 270–273 (2020). https://doi.org/10.1038/s41586-020-2012-7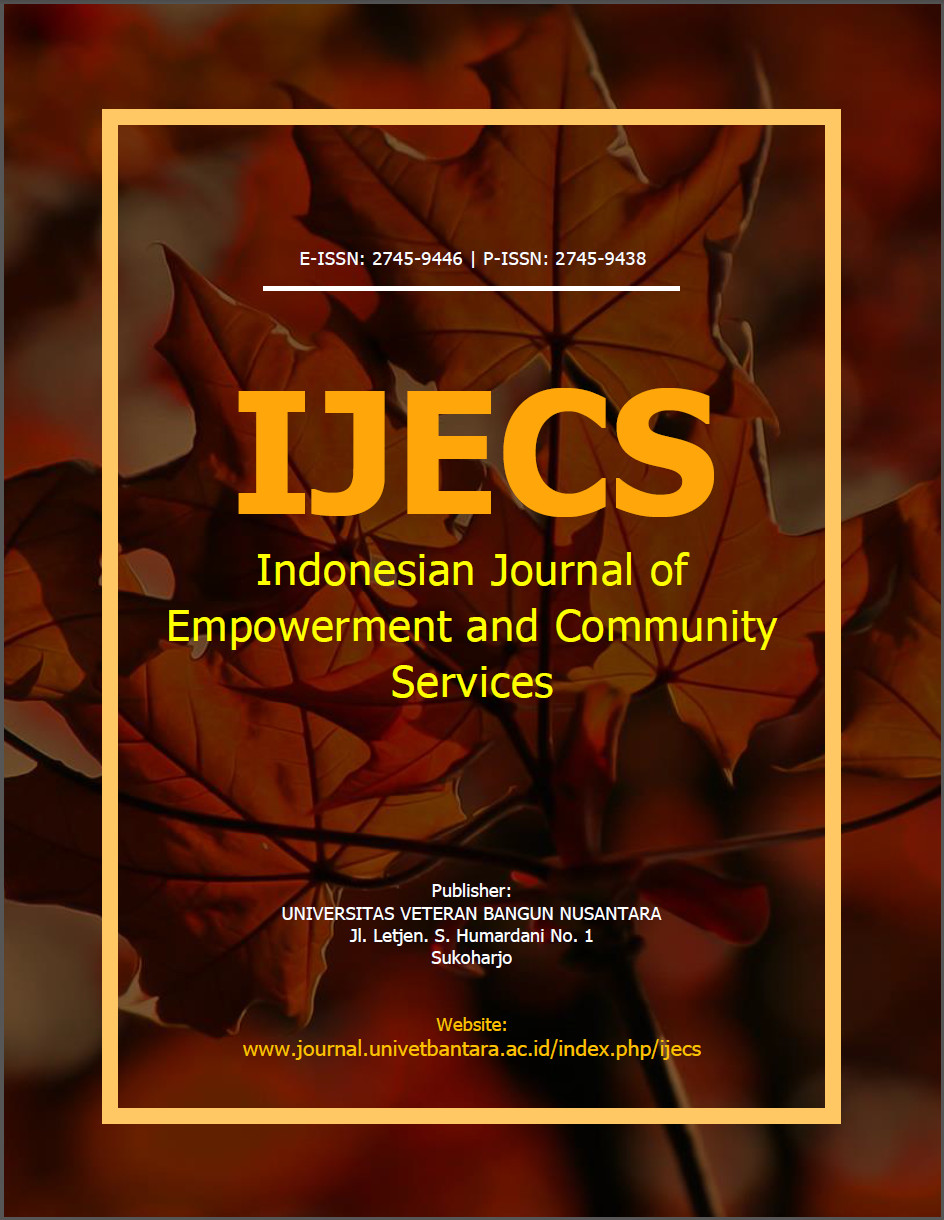 Downloads
How to Cite
Ginting, R., Huda, M., Drifanda, V., & Affandi, A. R. (2020). Pemberdayaan Masyarakat Desa Jungsemi di Masa Pandemi Covid 19 Melalui Pelatihan Pembuatan Hand Sanitizer dan Pelindung Wajah. IJECS: Indonesian Journal of Empowerment and Community Services, 1(1), 20–27. https://doi.org/10.32585/ijecs.v1i1.780
License
Authors who publish with the IJECS: Indonesian Journal of Empowerment and Community Services agree to the following terms:
Authors retain copyright and grant the journal the right of first publication with the work simultaneously licensed under a Creative Commons Attribution License (CC BY-SA 4.0) that allows others to share the work with an acknowledgment of the work's authorship and initial publication in this journal. 
Authors are able to enter into separate, additional contractual arrangements for the non-exclusive distribution of the journal's published version of the work (e.g., post it to an institutional repository or publish it in a book), with an acknowledgment of its initial publication in this journal.
Authors are permitted and encouraged to post their work online (e.g., in institutional repositories or on their website) prior to and during the submission process, as it can lead to productive exchanges, as well as earlier and greater citation of published work.