Jurnal Komunikasi Pendidikan is a peer-reviewed open-access journal which publishes educational research articles in Education and Learning. Every submitted manuscript will be reviewed by at least two peer-reviewers using double-blind review method.
This journal is published biannually
For author interested in submitting the manuscript, kindly ­register yourself. The author guidelines can be viewed it here, and the manuscript template can be downloaded here
Already have a Username/Password for Jurnal Komunikasi Pendidikan? go to login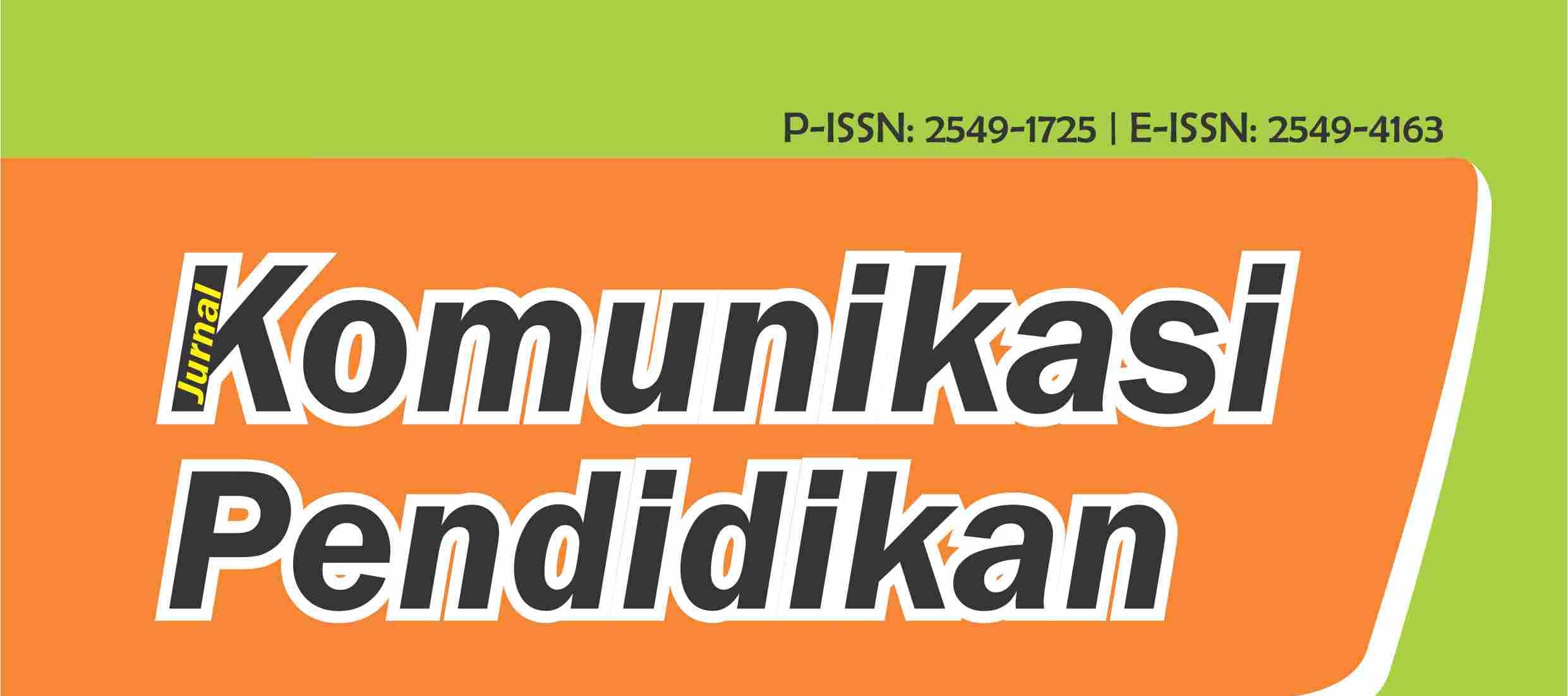 Announcements
No announcements have been published.
Vol 5, No 1 (2021)
Table of Contents
| | | |
| --- | --- | --- |
| | Siti Ummu Habibah, Abdul Halim Fathani, Isbadar Nursit | 1-12 |
10.32585/jkp.v5i1.1083
Abstract views : 82 |
PDF views : 1
10.32585/jkp.v5i1.1062
Abstract views : 97 |
PDF views : 1
| | | |
| --- | --- | --- |
| | Muhammad Anggung Manumanoso Prasetyo, Khairul Anwar | 25-39 |
10.32585/jkp.v5i1.1042
Abstract views : 53 |
PDF views : 1
| | | |
| --- | --- | --- |
| | Bambang Dibyo Wiyono, Budi Purwoko, Evi Winingsih | 40-54 |
10.32585/jkp.v5i1.1040
Abstract views : 42 |
PDF views : 2
10.32585/jkp.v5i1.1050
Abstract views : 31 |
PDF views : 1
| | | |
| --- | --- | --- |
| | Syaifurrohman Syaifurrohman, Faiz Albar Nasution | 68-78 |
10.32585/jkp.v5i1.800
Abstract views : 50 |
PDF views : 1
| | | |
| --- | --- | --- |
| | Hana Aviela Fedria Wowor, Kinkin Yuliaty Subarsa Putri | 79-92 |
10.32585/jkp.v5i1.683
Abstract views : 69 |
PDF views : 0
10.32585/jkp.v5i1.1076
Abstract views : 100 |
PDF views : 1
| | | |
| --- | --- | --- |
| | Christiana Evy Tri Widyahening, MH Sri Rahayu | 108-123 |
10.32585/jkp.v5i1.913
Abstract views : 41 |
PDF views : 1
| | | |
| --- | --- | --- |
| | Asep Supena, Rossi Iskandar | 124-139 |
10.32585/jkp.v5i1.1018
Abstract views : 45 |
PDF views : 1