PERSENTASE BOBOT POTONG DAN KARKAS AYAM BROILER SEBELUM PEMOTONGAN DENGAN WAKTU PEMUASAAN YANG BERBEDA
Abstract
Abstrak
Tujuan penelitian untuk mengetahui persentase bobot potong dan karkas ayam broiler dengan waktu pemuasaan yang berbeda. Penelitian dilaksanakan selama 28 hari di kandang percobaan Fakultas Peternakan Universitas Darul Ulum Islamic Centre Sudirman GUPPI, Kabupaten Semarang, Provinsi Jawa Tengah.Materi yang digunakan adalah Day Old Chick (DOC) ayam broiler strain MB 202 sebanyak 80 ekor, pakan komersil, gula merah, kapur, vitachick, vitastress, formalin, KMNO4. Alat yang digunakan adalah 16 petak kandang percobaan, tempat ransum, tempat minum, brooder, lampu pijar 25 watt, thermometer, timbangan. Parameter yang diamati: persentase bobot potong dan karkas setelah dipuasakan sebelum pemotongan. Penelitian ini menggunakan metode eksperimental dengan rancangan acak lengkap (RAL) yang terdiri perlakuan dengan 4 ulangan, setiap ulangan terdiri 5 ekor ayam broiler. Perlakuan yang diterapkan yaitu:  P0 = kontrol (tanpa pemuasaan), P1 = (pemuasaan 4 jam), P2 = (pemuasaan 8 jam), P3 = (pemuasaan 12 jam). Data yang diperoleh dalam penelitian diolah secara statistik dengan analisis sidik ragam dan dilanjutkan dengan uji beda nyata (BNT).Hasil penelitian persentase bobot potong dan karkas ayam broiler sebelum pemotongan dengan waktu pemuasaan berbeda menurunkan bobot potong (P?0,05) dan meningkatkan (P?0,05) persentase bobot potong Rata-rata persentase bobot potong turun secara linier dari P0 (kontrol), P1 = 0,98%, P2 = 0,95% dan P3 = 0,93%. Persentase karkas tertinggi yaitu pada P2 (0,87%) dan P3 (0,85%) dengan pemuasaan selama 8 dan 12 jam. Kesimpulan penelitian waktu pemuasaan yang berbeda mengakibatkan menurunnya persentase bobot potong, sedangkan berat karkas mengalami peningkatan pada pemuasaan 8 jam.
Kata kunci: Ayam broiler; Pemuasaan; Persentase bobot potong; dan Persentase Karkas
References
DAFTAR PUSTAKA
Bartov, I., 1998. Lack of interrelationship between the effects of dietary factors and food withdrawal on carcase quality of broiler chickens. Br. Poult. Sci., 39: 426-433.
Bell, D. dan W. D. Weaver, Jr. 2002. Commercial Chicken Meat and Egg Production. 5th Edition. Springer Science and Busines Media Inc. New York.
Contreras-Castillo, C. A. A. Pinto, G. L. Souza, N. J. Beraquet, A. P. Aguiar, K. M. V. A. B. Cipolli, C. M. I. Mendes, dan E. M. Ortega. 2007. Effects of Feed Withdrawal Periods on Carcass Yield and Breast Meat Quality of Chickens Reared Using an Alternative System.
Demir, E., Sarica S., Sederoglu A. Ozcan M.A., and Seker Y. 2004. Effects of early and late feed withdrawal on growth performance, ascites and blood constituents of broiler chickens. Acta Agr. Scand., Section A, Anim. Sci. 54: 152-158.
Dewanti, R., M. Irham, dan Sudiyono. 2013. Pengaruh Penggunaan Enceng Gondok (Eichornia
crassipes) Terfermentasi dalam Ransum terhadap Persentase Karkas, Non-Karkas, dan Lemak Abdominal Itik Lokal Jantan Umur Delapan Minggu. Bul. Pet., 37(1): 19-25
Joseph, J. K., B. Awosanya, and B. A. Adebua, 1997. The effects of pre-slaughter withholding of feed and water on carcass yield and meat quality of broiler chickens. Arab Gulf J. Scient. Res., 15: 91 - 98.
Karl, M. Haslinger, R. Leitgeb, F. Bauer, T. Ettle, W. Windisch. 2006. Carcass and Meat Quality of Broiler Chickens at Different Starving Periods Before Slaughter, Department of Veterinary Public Health and Food Science, University of Veterinary Medicine, Veterinärplatz 1, 1210 Vienna, Austria.
Knowles, T. G., P. D. Warriss, S. N. Brown, J. E. Edwards, and M. A. Mitchell, 1995. Response of broilers to deprivation of food and water for 24 hours. Br. Vet. J., 151: 197 - 202.
Lyon, C. E., C. M. Papa, and R. L. Wilson, 1991. Effect of feed withdrawal on yields, muscle pH, and texture of broiler breast meat. Poultry Sci., 70: 1020 - 1025.
Megawati, D. H. 2011. Persentase Karkas dan Potong Komersial Ayam Broiler yang Diberikan Pakan Nabati dan Komersial. Skripsi. Departemen Ilmu Produksi dan Teknologi Peternakan. Fakultas Peternakan. Institut Pertanian Bogor. Bogor.
Mulyantono, B., dan Isman. 2008. Bertahan di Tengah Krisis. Terbitan ke 1. Jakarta.
Murtidjo, B. A. 2003. Pedoman Beternak Ayam Broiler. Kanisius, Yogyakarta.
Northcutt, J.K., S.I. Savage and L.R. Vest, 1997. Relationship between feed withdrawal and viscera condition. Poult. Sci., 76: 410-414.
Nuraini, Z. Hidayat, dan K. Yolanda. Performa bobot badan akhir, bobot karkas serta persentase karkas ayam Merawang pada keturunan dan jenis kelamin yang berbeda. Sains Pet., 16(2): 69-73
Rasyaf, M. 2003. Beternak Ayam Pedaging. Penebar Swadaya. Jakarta.
Schaible, P.J. 1980. Poulry feed and nutrition. Avi publising company inc. Westport. Connecticut.
Siregar, A.P.N. Sabrani dan P. Suroprowiro. 1982. Teknik Beternak Ayam Pedaging Di Indonesia. Magie Group. Jakarta.
Soeparno, 2009. Ilmu dan Teknologi Daging. Cetakan V. Gadjah Mada University Perss. Yogyakarta.
Steel, C. J. dan J. H. Torrie. 1995. Prinsip dan Prosedur Statistik. PT. Gramedia, Jakarta.
Ustomo, E. 2011. 99% Gagal Beternak Ayam Broiler. Penebar Swadaya. Jakarta
Veerkamp, C. H., 1978. The influence of fasting and transport on yields of broilers. Poultry Sci., 57: 619 - 627.
Veerkamp, C. H., 1986. Fasting and yield of broilers. Poultry Sci., 65: 1299 - 1304.
Wahju, J. 1997. Ilmu Nutrisi Unggas. Cetakan Ketiga. Gajah Mada University Press, Yogyakarta.
Van Der Wal P. G., Reimert H. G. M, Goedhart H. A., Engel B., dan Uijbogaart T. G., 1999. The effect of feed withdrawal on broiler blood glucose and nonesterified fatty acid levels, post-mortem liver pH values and carcass yield. Poult. Sci. 78: 569-573
Warriss, P. D., S. C. Kestin, S. N. Brown, T. G. Knowles, L. J. Wilkins, J. E. Edwards, S. D. Austin, and C. J. Nicol, 1993. The depletion of glycogen stores and indices of dehydration in transported broilers. Br. Vet. J., 149: 391 - 398.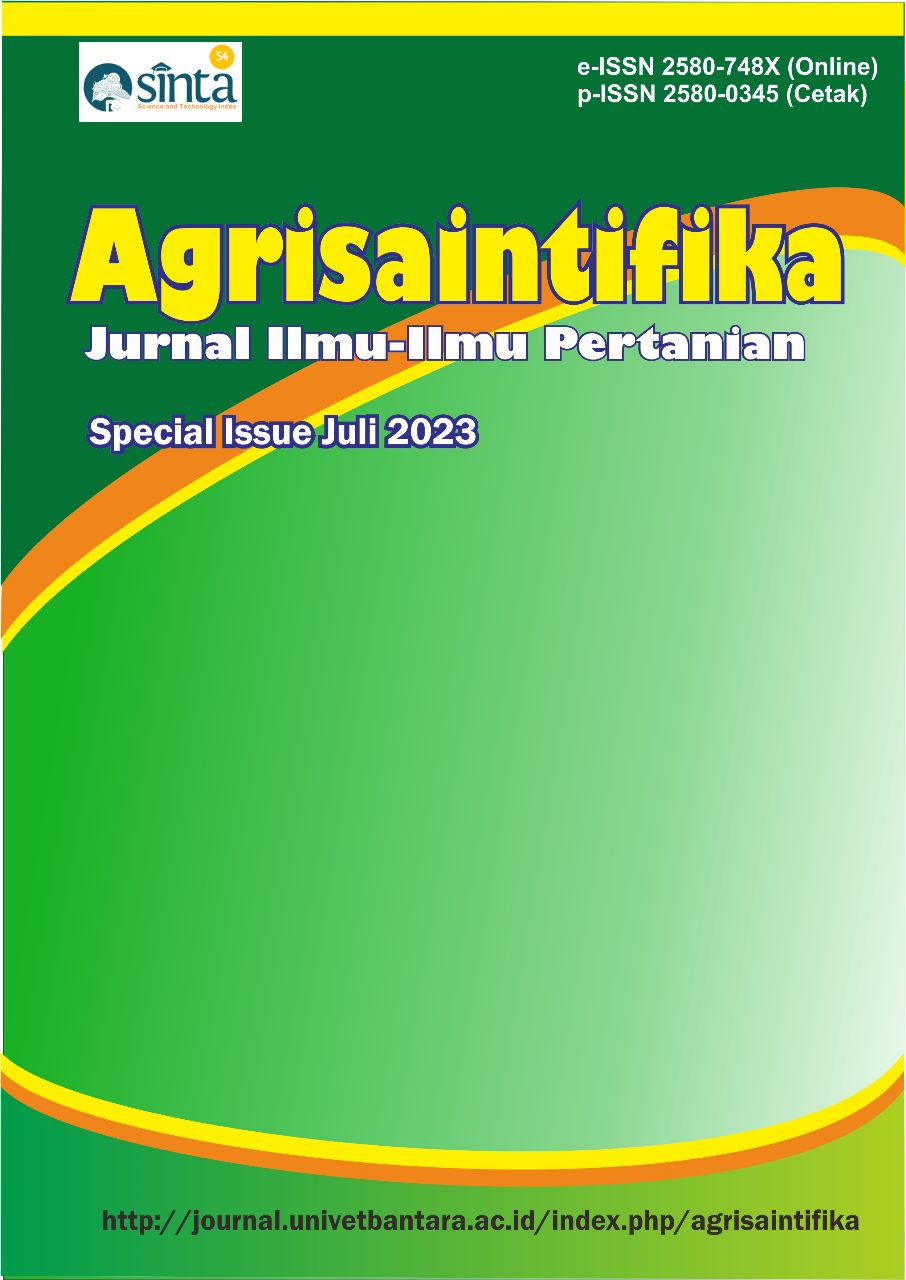 Downloads
How to Cite
Nuha, M. U., Primandini, Y., & Wahyuni, S. (2023). PERSENTASE BOBOT POTONG DAN KARKAS AYAM BROILER SEBELUM PEMOTONGAN DENGAN WAKTU PEMUASAAN YANG BERBEDA. Agrisaintifika: Jurnal Ilmu-Ilmu Pertanian, 7(2(is), 103–109. https://doi.org/10.32585/ags.v7i2(is).4353