PENGARUH APLIKASI PGPR TERHADAP PERTUMBUHAN BIBIT DUA VARIETAS ANGGUR (Vitis vinifera L.)
Keywords:
grapes, varieties, pgpr
Abstract
This research aims to identify the growth of 2 grape varieties (Vitis vinifera L.) Jestro ag5 and Green Belgian against the application of PGPR.
The research was carried out to coincide with July 19, 2020, until September 17, 2020, in Sarirejo Hamlet, Pereng Village, Mojogedang District, Karanganyar Regency, with an altitude of 350 meters above sea level. This research uses a Completely Randomized Design (CRD) procedure which consists of 2 treatment aspects. The first treatment aspect is the Grape Variety (B) which consists of 2 grape varieties namely, Isabella grape seed (B1) and Green Belgie grape variety (B2). The second treatment aspect was PGPR (A) treatment consisting of 4 various PGPR treatments namely, control (A1), soaking seeds with pgpr (A2), seeding with pgpr (A3), soaking and pouring with pgpr (A4). The results of this research prove that the PGPR treatment has a very significant effect on root volume, and significantly on the number of leaves, and is not significantly different on the time of shoot emergence, shoot length, and root length in parameter (B). On the other hand, parameter (A) has a very significant effect on shoot length, number of leaves, root volume, and is not significantly different with time of shoot emergence, root length. The best treatment was in (B2A4), namely Grape seed cuttings of the Green Belgian variety with the application of immersion and pouring of seed cuttings with PGPR which had a significant effect on root volume.
References
Mardiyah, M., Basri, Z., Yusuf, R., & Hawalina, H. (2017). Pertumbuhan Tunas Anggur Hitam (Vitis vinifera L.) Pada Berbagai Konsentrasi Benzylamino Purin Dan Indolebutyric Acid. Agroland: Jurnal Ilmu-ilmu Pertanian, 24(3), 181-189.
Utami, T., Hermansyah, H., & Handajaningsih, M. (2016). Respon Pertumbuhan Stek Anggur (Vitis vinifera L.) terhadap Pemberian Beberapa Konsentrasi Ekstrak Bawang Merah (Allium ascalonicum L.). Akta Agrosia, 19(1), 20-27.
Iswati, R. (2012). Pengaruh dosis formula pgpr asal perakaran bambu terhadap pertumbuhan tanaman tomat (Solanum lycopersicum Syn). Jurnal Agroteknotropika, 1(1).
Wulandari, E. (2014). Kandungan Makronutrien Pupuk Organik Cair Dengan Penambahan Biang Pgpr (Plant Growth Promoting Rhizobacteria) Akar Bambu Sebagai Pengganti EM4 (Doctoral dissertation, Universitas Muhammadiyah Surakarta).
Syukrawati, S. (2020). Pertumbuhan Dua Varietas Bibit Tanaman Anggur (Vitis Vinifera L.) Dengan Pemberian Dosis Kompos Limbah Padat Pabrik Teh (Doctoral dissertation, Universitas Andalas)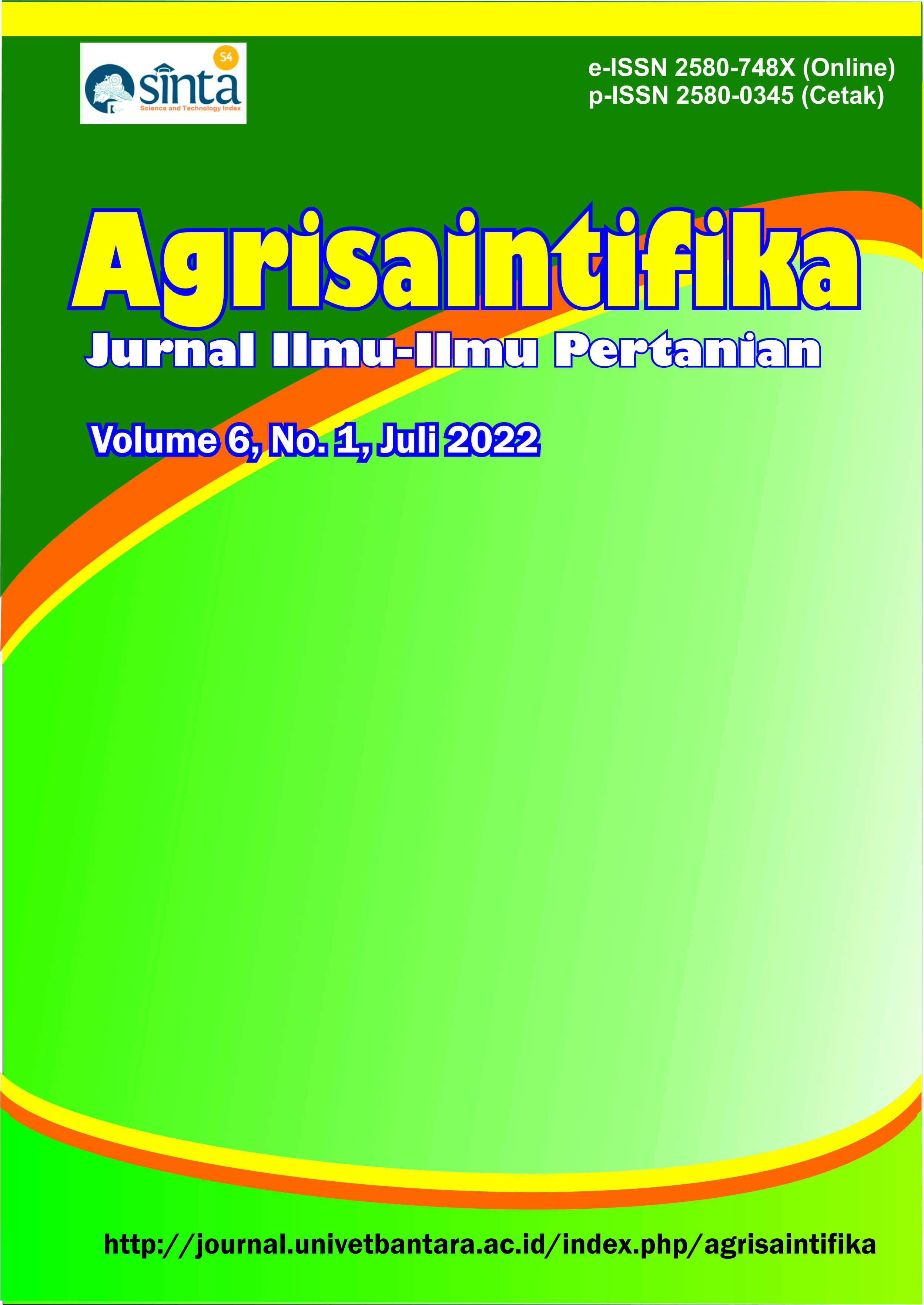 Downloads
How to Cite
Widiastuti, L. (2022). PENGARUH APLIKASI PGPR TERHADAP PERTUMBUHAN BIBIT DUA VARIETAS ANGGUR (Vitis vinifera L.). Agrisaintifika: Jurnal Ilmu-Ilmu Pertanian, 6(1), 32–37. https://doi.org/10.32585/ags.v6i1.2326