---
| | |
| --- | --- |
| Journal Title | International Journal of English Linguistics, Literature, and Education (IJELLE) |
| ISSN | 2686-0120 (print)| 2686-5106 (online) |
| DOI Prefix | Prefix by |
| Editor in Chief | Sihindun Arumi |
| Publisher | Universitas Veteran Bangun Nusantara |
| Frequency | 2 issues per year (June & December) |
| Citation Analysis | Google Scholar |
---
International Journal of English Linguistics, Literature, and Education (IJELLE) is a peer-reviewed open-access journal that publishes educational research articles. Every submitted manuscript will be reviewed by at least two peer-reviewers using the double-blind review method.
This journal is published biannually
For an author interested in submitting the manuscript, kindly register yourself. The author guidelines can be viewed here, and the manuscript template can be downloaded here.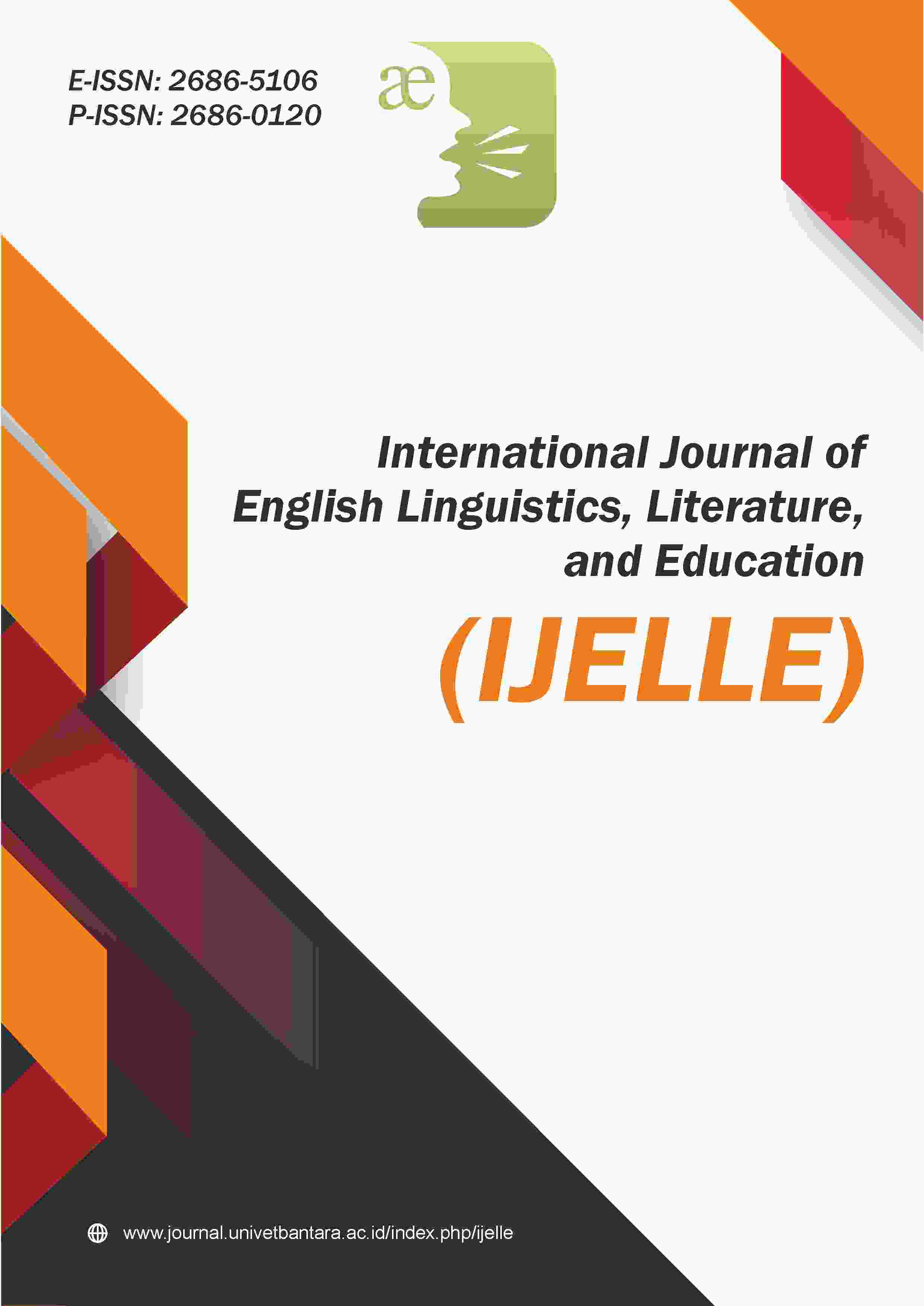 Announcements
No announcements have been published.
Vol 4, No 1 (2022)
Table of Contents
| | | |
| --- | --- | --- |
| | Agus Dimyati Masykur | 1-12 |
10.32585/ijelle.v4i1.2442
Abstract views : 0 |
PDF views : 0
10.32585/ijelle.v4i1.2175
Abstract views : 0 |
PDF views : 0
| | | |
| --- | --- | --- |
| | Aulia Putri Gustri Rusmi | 25-37 |
10.32585/ijelle.v4i1.2447
Abstract views : 0 |
PDF views : 0
| | | |
| --- | --- | --- |
| | Aghnia Dianah Anwar, Tofan Dwi Hardjanto | 38-49 |
10.32585/ijelle.v4i1.2527
Abstract views : 0 |
PDF views : 0
| | | |
| --- | --- | --- |
| | Iis Sujarwati, Sureena Sa ae, Syafryadin Syafryadin | 50-61 |
10.32585/ijelle.v4i1.2517
Abstract views : 0 |
PDF views : 0