PENGARUH KEMASAN EDIBLE FILM DARI TEPUNG GATHOT (SINGKONG TERFERMENTASI) TERHADAP KARAKTERISTIK KIMIAWI SOSIS AYAM DI SUHU RUANG
Keywords:
Antioksidan, edible film, gathot (singkong terfermentasi), kerusakan oksidatif, sosis ayam
Abstract
Tujuan penelitian ini untuk mengetahui perubahan secara kimiawi dari sosis ayam dengan kemasan edible film tepung gathot selama penyimpanan 8 hari di suhu ruang. Materi yang digunakan adalah gathot kering, karagenan dan gliserol. Metode dilakukan secara eksperimen, uji kimiawi sosis ayam dianalisis secara kuantitatif RAL pola faktorial 2x5, faktor pertama yaitu jenis edible film (0,00 dan 0,75%) dan faktor kedua yaitu lama penyimpanan (0; 2; 4; 6; 8 hari), dengan masing-masing 4 kali pengulangan. Data kuantitatif diolah dengan Minitab 19.0. Hasil uji sosis ayam selama 8 hari di suhu ruang mengalami peningkatan nilai aw, nilai TBA (Thiobarbituric Acid), angka peroksida dan nilai FFA (Free Fatty Acid / Asam Lemak Bebas). Kesimpulannya, hasil aplikasi edible film tepung gathot konsentrasi 0,75 % mampu mempertahankan kualitas sosis ayam sampai hari ke 6 dalam penyimpanan suhu ruang (28 oC)
References
Aranda, M., Mendoza, N., and Villegas, R. 2006. Lipid Damage during Frozen Storage of Whole Jack Mackerel (Trachurus symmetricus murphyi). Journal of Food Lipids. 13(2):155-166.
Choiriyah, N. A. 2020. Kandungan Antioksidan pada Berbagai Bunga Edible di Indonesia. AGRISAINTIFIKA: Jurnal Ilmu-Ilmu Pertanian. 4(2):136-143.
Dhumal, C. V., and Sarkar, P. 2018. Composite Edible Films and Coatings from Food-Grade Biopolymers. Journal of Food Science and Technology. 55(11):4369-4383.
Dong, C., Wang, B., Li, F., Zhong, Q., Xia, X., and Kong, B. 2020. Effects of Edible Chitosan Coating on Harbin Red Sausage Storage Stability at Room Temperature. Meat Science. 15(9): 7-19.
Hasdar, M., Erwanto, Y., dan Triatmojo, S. 2011. Karakteristik Edible Film yang Diproduksi dari Kombinasi Gelatin Kulit Kaki Ayam dan Soy Protein Isolate. Buletin Peternakan. 35(3):188-196.
Husain, R., Suparmo, S., Harmayani, E., dan Hidayat, C. 2018. Komposisi Asam Lemak, Angka Peroksida, dan Angka TBA Fillet Ikan Kakap (Lutjanus sp) pada Suhu dan Lama Penyimpanan Berbeda. Agritech. 37(3):319-326.
Kalem, I. K., Bhat, Z. F., Kumar, S., Noor, S., and Desai, A. 2018. The Effects of Bioactive Edible Film Containing Terminalia Arjuna on The Stability of Some Quality Attributes of Chevon Sausages. Meat Science. 140(1):38-43.
Kurniawati, N. 2019. Pengaruh Subtitusi Tepung Gathot Instan dan Jenis Bahan Pengembang terhadap Sifat Organoleptik Bolu Kukus. Jurnal Tata Boga. 8(1):40-53.
Kusmiandany, E., Pratama, Y. and Pramono, Y. B. 2019. The Effect of Gatot (Fermented Dried Cassava) and Red Bean Ratio on Water Content and Organoleptic Characteristics of The" Gatotkaca" Analog Rice. Journal of Applied Food Technology, 6(1):09-11.
McClements, D. J., and Decker, E. A. 2000. Lipid Oxidation in Oil‐in‐Water Emulsions: Impact of Molecular Environment on Chemical Reactions in Heterogeneous Food Systems. Journal of food science, 65(8):1270-1282.
Muttaqien, A. T., Nuhriawangsa, A. M. P., dan Swastike, P. W. 2013. Sifat Fisik Edible Film dari Gelatin Shank Ayam Broiler dan Pengaruh Penggunaannya terhadap Cemaran Mikroba Sosis Daging Sapi dengan Masa Simpan yang Berbeda. Tropical Animal Husbandry, 2(1):15-20.
Naufalin, R., Wicaksono, R., Arsil, P., and Gulo, K. I. T. 2019. Application of Concentrates Flower Kecombrang on Edible Coating as Antioxidant to Suppress Damage on Gourami Sausage. IOP Conference Series: Earth and Environmental Science. 255(1):12-40.
Purwandari, U., Tristiana, G. R., and Hidayati, D. 2014. Gluten-Free Noodle Made from Gathotan Flour: Antioxidant Activity and Effect of Consumption on Blood Glucose Level. International Food Research Journal. 21(5):1951-1956.
Purwanta, M. A. 2012. Pelanggaran Hukum Perlindungan Konsumen terhadap Penggunaan Produk Plastik Berbahaya sebagai Kemasan Makanan dan Minuman. Jurnal Hukum dan Peradilan. 1(3):487-511.
Ratnaduhita, A., Nuhriawangsa, A. M. P., dan Kartikasari, L. R. 2021. Aplikasi Aktivitas Antioksidan Tepung Gathot (Singkong Terfermentasi) dalam Edible Film Sosis Ayam di Suhu Ruang. Livestock and Animal Research. 19(2):227-237.
Ratnaduhita, A., Pratama, Y., dan Pramono, Y. B. 2022. Karakteristik Kimia dan Tingkat Kesukaan Beras Analog "GATOT KACA" dari Gatot dan Kacang Merah (Phaseolus vulgaris L.) dengan Variasi Konsentrasi CMC (Carboxymethyl Cellulose). Jurnal Teknologi Pangan. 5(1):13-17.
Shon, J. H., Eo, J. H., and Choi, Y. H. 2011. Gelatin Coating on Quality Attributes of Sausage during Refrigerated Storage. Food Science of Animal Resources. 31(6):834-842.
Sudarmadji, S. B., Haryono dan Suhardi. 1997. Prosedur Analisa Bahan Makanan dan Pertanian. Liberty, Yogyakarta
Susanto, A. 2009. Uji Korelasi Kadar Air, Kadar Abu, Water activity dan Bahan Organik pada Jagung di Tingkat Petani, Pedagang pengumpul dan Pedagang Besar. Seminar Nasional Teknologi Peternakan dan Veteriner. 1(1):826-836.
USDA (United States Department of Agriculture). 2011. Principles of Preservation of Shelf-Stable Dried Meat Products. U.S. Departement of Agriculture, New York.
Utami, R., Agustini, T. W., and Amalia, U. 2018. Aplikasi Edible Coating Semi Refined Karaginan terhadap Daya Simpan Sosis Ikan Kurisi (Nemipterus nematophorus) pada Penyimpanan Suhu Dingin. Jurnal Pengolahan dan Bioteknologi Hasil Perikanan. 6(2):24-32.
Wardana, A. A., and Widyaningsih, T. D. 2017. Development of Edible Films from Tapioca Starch and Agar, Enriched with Red Cabbage (Brassica oleracea) as a Sausage Deterioration Bio-Indicator. IOP Conference Series: Earth and Environmental Science. 109(1): 12-31.
Winarno. 1991. Kimia Pangan dan Gizi. PT Gramedia, Jakarta
Yen, M. T., Yang, J. H., and Mau, J. L. 2008. Antioxidant Properties of Chitosan from Crab Shells. Carbohydrate polymers. 74(4):840-844.
Yuwanti, S. 2005. Potensi Asap Cair sebagai Antioksidan pada Bandeng Presto. Jurnal Teknologi Pertanian. 6(2):81-85.
Zamudio-Flores, P. B., E. Ochoa-Reyes, J. D. J. Ornelas-Paz, A. Aparicio-Saguilán, A. Vargas-Torres, L. A. Bello-Perez, A. Rubio-Ríos, and R. G. Cárdenas-Félix. 2015. Effect of Storage Time on Physicochemical and Textural Properties of Sausages Covered with Oxidized Banana Starch Film with and without Betalains. CyTA: Journal of Food. 13(3):456-463.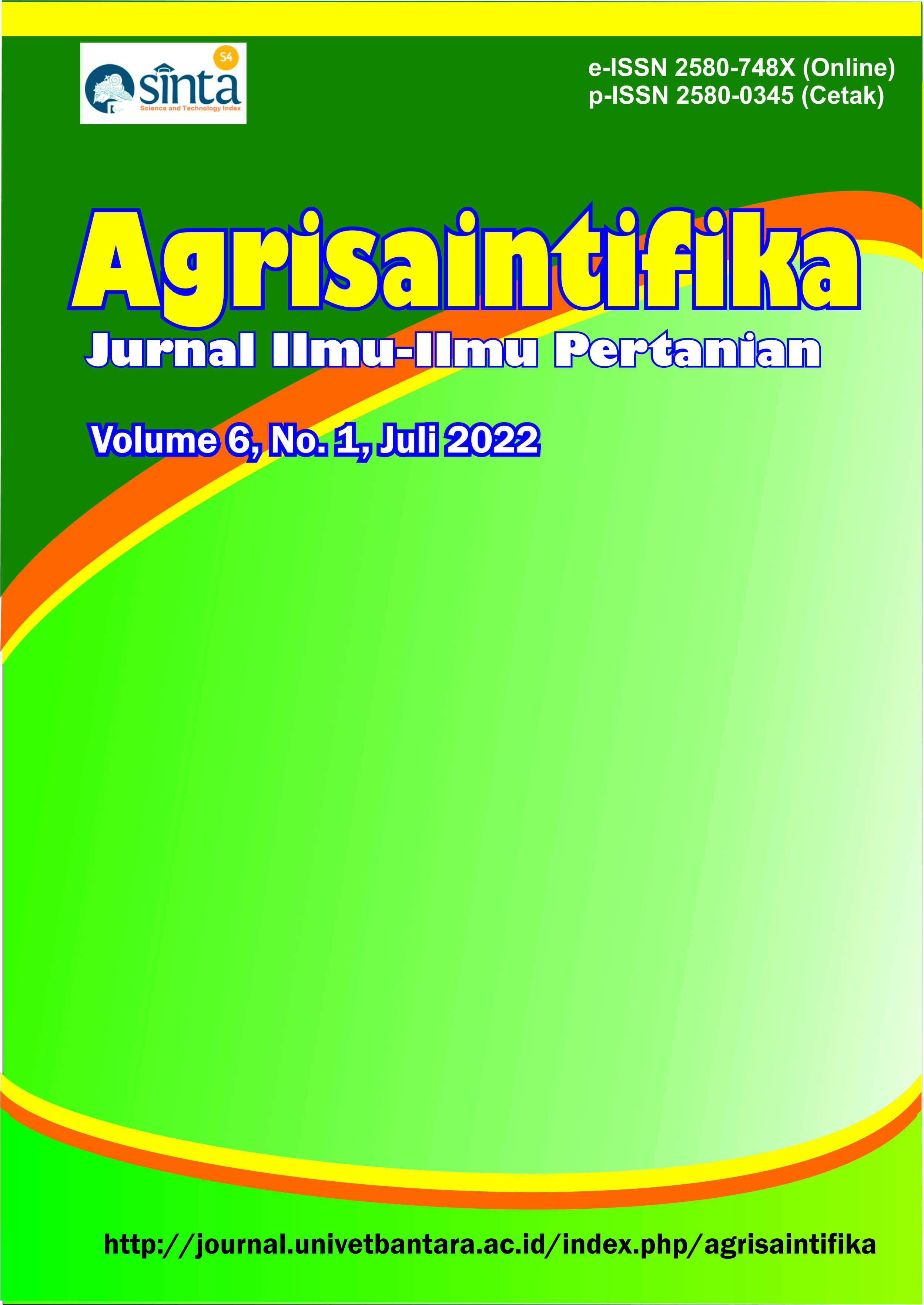 How to Cite
Ratnaduhita, A., & Wianto, A. O. (2022). PENGARUH KEMASAN EDIBLE FILM DARI TEPUNG GATHOT (SINGKONG TERFERMENTASI) TERHADAP KARAKTERISTIK KIMIAWI SOSIS AYAM DI SUHU RUANG. Agrisaintifika: Jurnal Ilmu-Ilmu Pertanian, 6(1), 47–56. https://doi.org/10.32585/ags.v6i1.2392